Daggers, Swords and Spears...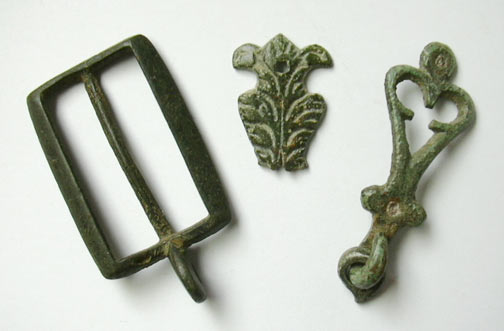 Sword Mounts

The left-hand example is a 'sub rectangular, double loop, sword belt hanger'. It would have been one of a pair, and the scabbard would have hooked onto the loops at the bottom. The other two examples would have been riveted onto a belt, probably in threes, and the scabbard then hung from the (missing) hooks at their lower end. All are circa 1500-1600.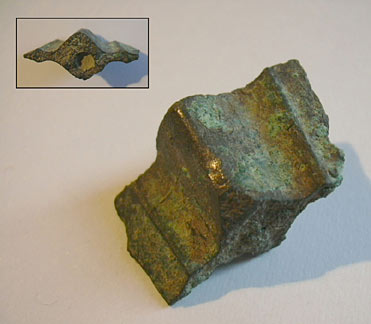 Arrowhead Fragment, possibly part of a Roman 'ballista'

This is probably Roman, but once again I'm still waiting for expert opinion on the matter. It was found in a small valley between two hills, both of which show the outlines of Celtic field systems, and other Roman finds have come from nearby. As the land is ploughed fairly regularly, I hope that other finds will show up in the future. The detail, showing the cross-section, also shows the end of the socket into which the shaft would have fitted.
Back to top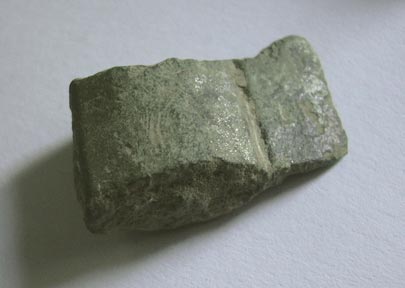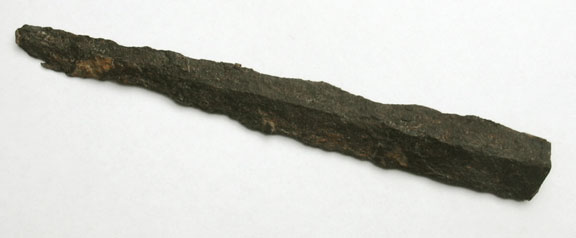 Medieval dagger blade

To read about the finding of this piece, see Stupid Brothers no. 14. It's clearly a dagger blade, and the site from which it came has yielded several hammered coins, buckles and other items.
When my detector tells me an object is probably iron, I don't usually bother to dig - but this was lying on the surface, right next to my foot!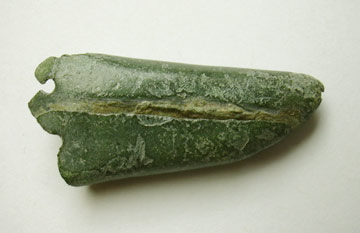 Bronze chape

This is the bit that goes onto the end of a scabbard (in this case, for a dagger rather than a sword) so that the owner didn't keep getting poked with the sharp end. It's a clever bit of metalwork, and has been created from a single sheet.
Back to top